Our anaesthetists now have a new high-tech piece of equipment to improve intubation and airway management of children with difficult airways. Charitable funds have purchased a new 3mm Fiberscope suitable for young children and babies requiring additional airway support at Milton Keynes University Hospital.
The Paediatric Fiberscope will be used in addition to standard intubation equipment in both elective surgeries, and emergency procedures to secure the airway. The standard equipment and blind technique are suitable for mosts children and babies requiring intubation, however there are occasional cases where it may prove difficult to do so. The fiberscope is an incredible piece of equipment now instantly available to Paediatric and Neonatal wards to assist in securing difficult airways.
As Milton Keynes University Hospital continues to see a rise in the number of surgeries for children coming through paediatrics, and an increase in the number of sick children requiring intubation and stabilisation prior to transfer to specialist hospitals, the ability to provide effective intubation becomes increasingly important. A proportion of children within Milton Keynes are known to have rare syndromes that make intubation challenging as well as some children that are managed with tracheostomies in the community that come into hospital as an emergency.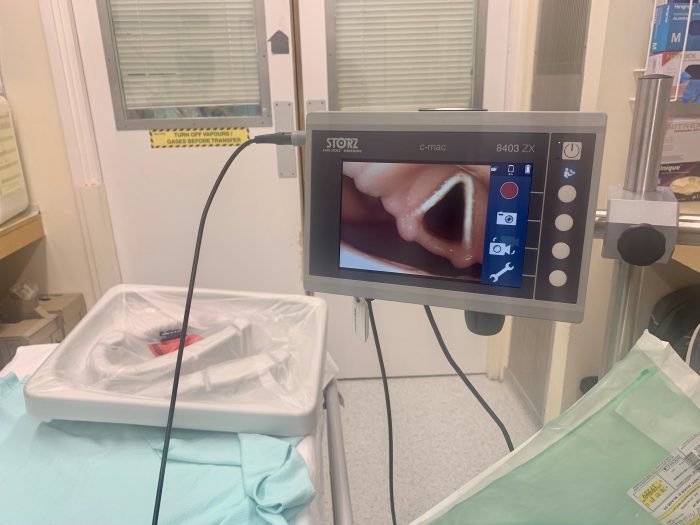 The tiny 3mm Fiberscope camera will not only be used for which is able to record images and video of the throat and lungs which will be invaluable in treating blockages in the airway and foreign objects in the lungs. The recording can then easily be shared between departments or even with other specialist hospitals if needed. Providing not only a better picture to medical staff treating the children but also helping prevent the need for additional procedures.
"We are grateful to the donors for purchasing a Paediatric Fiberscopic Intubating Video Endoscope (FIVE). Alongside our video laryngoscope, and Make Airway Safe Trolley (MAST), we now have the ability to deal with the unexpected difficult airway to ensure that we can oxygenate an infant or child in extremis. These vital pieces of equipment help us to be able to effectively do our job and look after the children in Milton Keynes."

Dr Wassim Shamsuddin – Consultant Anaesthetist at Milton Keynes University Hospital