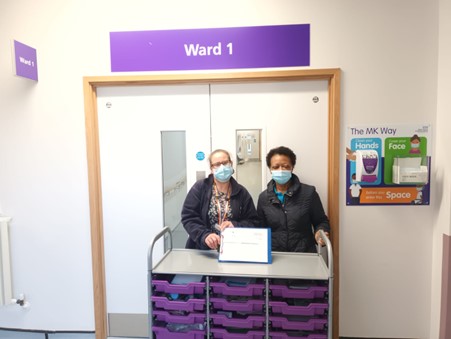 On January 18 we were proud to launch the hospital's first Patient Experience Trolley!
The trolley had its first outing yesterday with Patient Experience Co-ordinator Sharon and our lovely new volunteer Hyacinth (pictured).
Sharon and Hyacinth went to Wards 1 and 14 to spend time handing out items and making patients smile! The trolley contains a mix of items that we can hand out to patients to make them feel a bit more comfortable – ranging from shampoos, conditioners and hair combs, to puzzle books, headphones, ear buds and sleep masks.
The trolley gives us the opportunity to chat to patients, finding out about their stay and getting feedback to further improve care at the hospital. It also gives patients some conversation and company, which is especially comforting to those who perhaps don't have regular visitors.
"I really enjoyed taking the patient experience trolley out to patients and being able to supply the simple things which made a massive difference to the patients. To see this providing such a positive experience made me very proud. It is a great idea with lots of useful things you might need while in hospital. The patients were pleased and really appreciated the idea and many made use from it."

Sharon, Patient Experience Co-ordinator
None of this would have been possible without charitable donations made to our charity, so thank you!