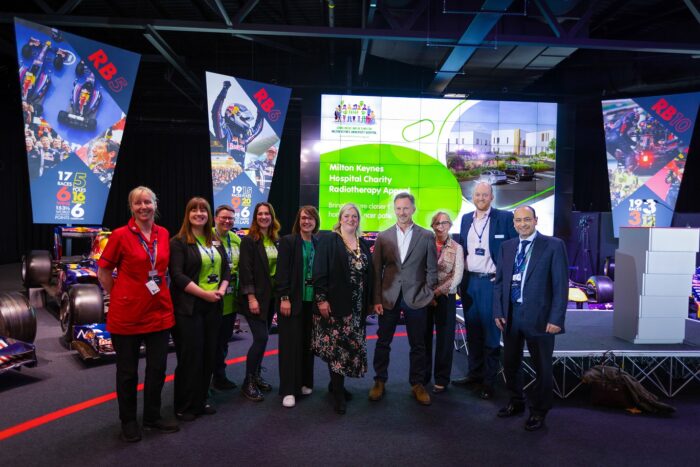 We celebrated the launch of our Radiotherapy Appeal yesterday evening at the Red Bull Technology Campus. The event was hosted by Oracle Red Bull Racing Team Principal, Christian Horner, and saw the start of our bid to raise over £500,000 to provide a wellbeing care hub at the hospital's brand-new Radiotherapy Centre.
Due to open in late summer 2024, the new Radiotherapy Centre at the hospital will make it much easier for cancer patients to receive life-saving treatment right here in Milton Keynes. Almost all those needing radiotherapy currently travel much further afield to places such as Oxford for their treatment. Last year these journeys amounted to 6,400 fractions (a fraction being one treatment of a radiotherapy course).
Further to the great benefit the new MK radiotherapy facility will bring to cancer patients, the hospital's ambition is to offer those receiving treatment at MKUH to have more than just the clinical care they need. Through the vital work of the hospital charity, the Trust will be developing a purpose-built space away from clinical areas that can offer patients much-needed wellbeing support. The launch of the Radiotherapy Appeal and ongoing contributions from our local community will enable the delivery of this ambitious project.
Alison Davis, Chair of the Board of Directors, MKUH said "We are thankful to Oracle Red Bull Racing for their generosity and support in launching the Radiotherapy Charity Appeal, which aims to support the hospital to deliver a unique wellbeing space for cancer patients and their families. We want to bring cancer care services closer to home for residents of Milton Keynes and this includes the essential wellbeing care a patient requires when dealing with the life-changing impact of a cancer diagnosis.
"This important appeal, along with the continued kindness, warmth and goodwill from our local community, will result in a truly exceptional space which will be hugely beneficial for our patients."
Vanessa Holmes, Associate Director, Milton Keynes Hospital Charity said "This appeal is so special. Not only is it the first large-scale appeal the charity has launched since 2018, but it will make a huge difference to so many local people – patients and families – going through cancer. As with any fundraising campaign, we can't do this alone, and we would ask anyone interested in supporting us, to get in touch by emailing fundraising@mkuh.nhs.uk."