The Chaplaincy team which covers Milton Keynes University Hospital and Willen Hospice have been working hard over the past year to visit faith and belief communities to learn more about the worldviews of those in our city and what support would be valuable to them if they or a loved one became unwell and was in hospital.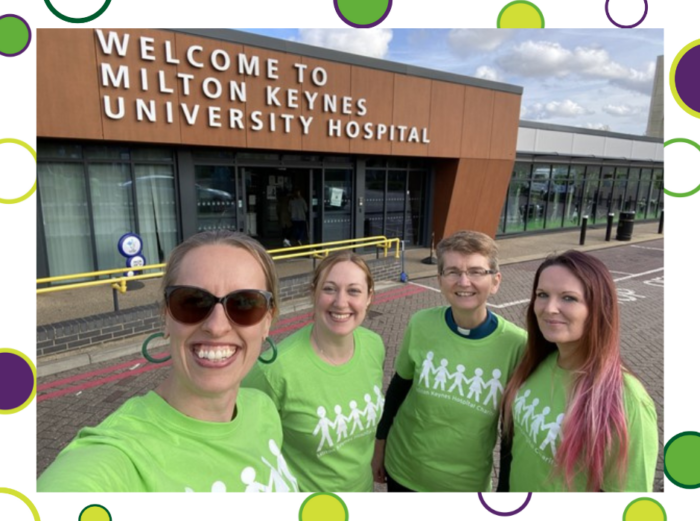 As part of Interfaith Week 2022 the team have decided to do a sponsored walk which takes in places of worship in our city. We hope that people will join us for parts of the journey to walk and talk about the value of interfaith relationships and support within a chaplaincy context.
The walk will be 14 miles long and take in Willen hospice, Vihara Buddhist temple, Murugan Hindu Temple, Sikh Gurdwara, Reform Jewish Synagogue, St Augustine's Roman Catholic Church, Milton Keynes Islamic Centre and the ecumenical church, Christ the King, Kents Hill, starting and finishing at MKUH.
The team will be briefly stopping in each location to talk to people from the community and to share their hopes for the expansion of the chaplaincy service to be more inclusive of a broad range of faiths and worldviews. People are then welcome to join in with the walk and continue those conversations.
The money we raise will go towards this goal of deeper inclusion, which includes appointing two additional chaplains to make our team more representative of the diverse faith and belief groups within our city.
£10 could fund a faith text which could be given away to someone requesting it.
£100 could fund the contents of spiritual care boxes to enable reflective space for people of all worldviews
£200 could fund a day of training for staff to enable them to understand the value and impact of chaplaincy.
£1000 could fund a new chaplain from a diverse faith group to attend an accredited training course for new healthcare chaplains.
We believe in the value of support for people's pastoral, spiritual and religious needs; enabling them to feel heard, understood and cared for at a challenging time which gives them space to wrestle with the emotional impact of their experiences and reflect on the way it relates to their sense of self.
The route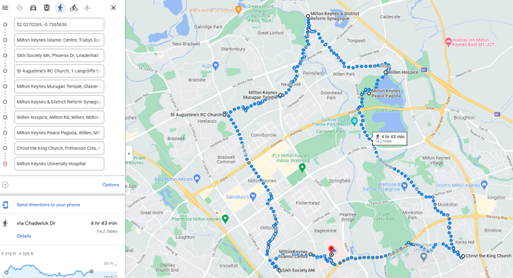 Leave Milton Keynes University Hospital at 8:30
First Stop: Milton Keynes Islamic Centre, MK6 5HA (Arrive 8:50)
Second Stop: Gurdwara Sikh Temple, MK6 5LU (Arrive 9:15)
Third Stop: St. Augustines Catholic Church, MK13 7PL (Arrive 10:30)
Fourth Stop: Murugan Hindu Temple, MK14 6HG (Arrive 11:15)
Fifth Stop: MK & District Reform Synagogue, MK14 5PQ (Arrive 12:00)
Sixth Stop: Willen Hospice, MK15 9AA (Arrive 12:45)
Seventh Stop: MK Buddhist Vihara, MK15 9HP (Arrive 13:30)
Eighth Stop: Christ the King Methodist Church, MK7 6HQ (Arrive 15:00)
Return to Milton Keynes University Hospital at 16:00
Get involved
All are welcome to join the walk or meet the team at any of the stops along the way. Contact Revd Sarah Crane for more information.
Visit the team's Just Giving page for updates or make a donation towards their fundraising target: Sarah Crane is fundraising for Milton Keynes Hospital Charity (justgiving.com)